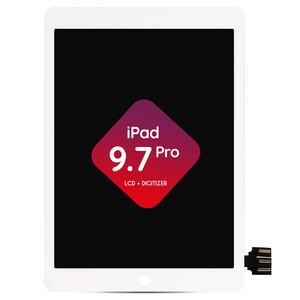 iPad Pro 9.7 LCD + Digitizer (White)
$11000

$110.00
Tax included.
This iPad LCD Screen comes with Polarizied lens, Cold Pressed Frames, Proximity, Sensor Bracket, Earpiece Speaker Grill & Mesh and Steel Plate.
Made with is best quality materials, And It's perfect fit on iPad Pro 9.7.

Olephobic Coating on iPad LCD Display.
Every iPad LCD Displays are tested before shipping.

We offer Lifetime Warranty on iPad LCD.

This is the best replacement of broken, damaged or cracked LCD for iPad Pro 9.7.
---